If you are interested in becoming a fashion designer you can start using a software which gives you a wide assortment of models and clothes in a variety of colors and styles to design fashion dress. They are easy to use, it is enough to follow some steps to design clothing of all types for both men and women readily.
Here you have a list of the most used: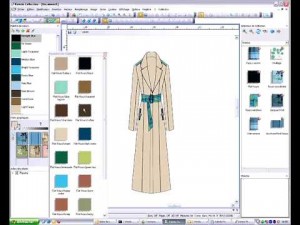 One of the most famous creations of Lectra is Kaledo. Kaledo may be considered a prominent and perfect designing software for an aspiring designer. It has all the necessary elements and features that are ideal for creating designer clothing meant for the catwalk, end even for a clothing business. Every aspect in creating the ideal design for clothes is present in this program and there is a limit given only by your imagination. And since anyone could operate this software, we placed it at number one.
It represent a 3D solution created specially for fashion designers. Easy to use, it unleashes your creativity so you can view your designs on a realistic 3D body in a variety of colors, styles, materials and more. With Lotta, you can seamlessly move from your favorite 2D tools to 3D and back again or work directly in 3D. It's easier than ever to communicate your design ideas with the entire development team.
Design all types of clothing and fashion styles with Digital Fashion Pro fashion design software. Design your own shirts, jeans, pants, dresses, sweatshirts, shoes, costumes, handbags, swimwear, T-shirts, coats, jackets, skirts, leggings, lingerie, vest, hoodies, eyewear, socks and more. Even if you are a true beginner, you will learn how to design clothing like a pro with Digital Fashion Pro. Digital Fashion Pro is a complete fashion design software system featuring hundreds of clothing templates, digital fabrics, models and training wrapped in one. Plus it's super easy to learn and use. You will be creating your own professional fashion sketches in minutes.
My Label 3D Fashion by Bernina 
My Label 3D Fashion is great in creating your own personalized fashion wear. This program has a very user friendly interface that lets your create wonderful combinations among the given selections. The program only needs your personal measurements and it can do wonders with it. The measurements given serve as the key elements in creating magnificent designs and patters that will surely fit your taste and size.
Cameo v5 
Is specifically designed for accurately measuring and making patterns for clothes-making. This is a very intricate process and requires full attention to detail. Getting the exact measurements as well as the correct lining and pattern makes all the difference in determining the size of the clothing and this tool makes it so much easier and faster.
https://florencedesignschool.it/wp-content/uploads/2015/07/Schermata-2015-07-24-alle-10.01.17.png
401
434
Florence Design School
http://florencedesignschool.it/wp-content/uploads/2013/04/logo-dfs.png
Florence Design School
2015-07-22 12:32:33
2015-07-24 10:02:06
Best Fashion Design Software for Beginners